You may have heard the acronym 'DTG printing' thrown around your very ambitious and aspiring peers looking to start an online merchandise brand. Or maybe you're simply testing out your knack in design and looking for a way to bring them to life on a t-shirt. Maybe you're making a limited amount of promotional merchandise for your new project. Direct to Garment printing (DTG) is the most modern way to print your designs on custom products. 
With new technology comes a lot of unknowns – where can you find DTG printers? Do you need to buy a DTG printer in the first place? Is there a way to simplify the Direct to Printing process? Do you have enough money to invest in DTG printing? These and many more questions are answered in this article.
We've compiled over 20 questions to make you the DTG printing guru you deserve to be. Let's get into it.
General Knowledge
1. What is Direct to Garment (DTG) printing?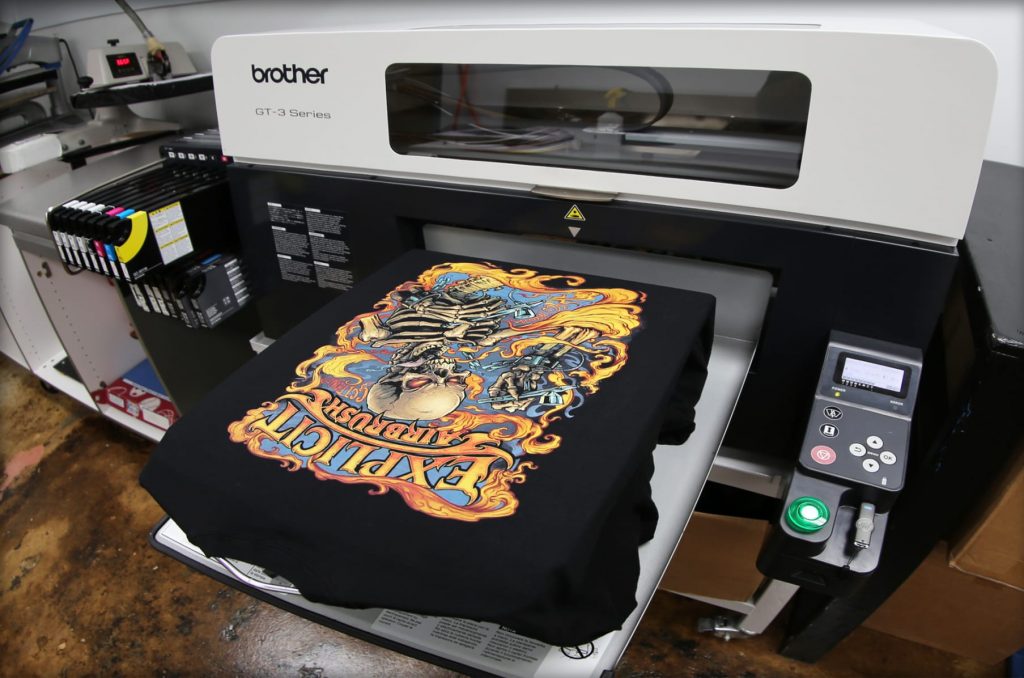 Direct-to-Garment Printing or DTG is a popularly known, is a printing process that is very similar to printing on paper, just that the medium used here is fabric. In fact, it was the paper printing inkjet machines that inspired DTG printing. The roots of Direct to Garment technology are in injection printers, which were first invented in the 1950s and became a common feature in every office. Direct to Garment printing was invented to serve a quicker remedy to the manually intensive screen printing. Direct to Garment printing process takes just a couple of minutes for a lasting high-quality print.
2. Who invented DTG printing?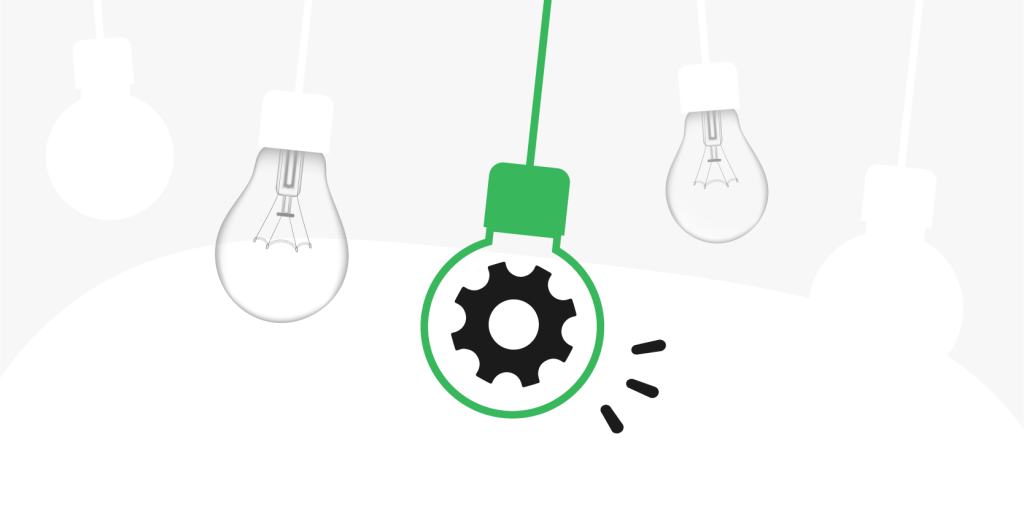 The first DTG printer was invented by Matthew Rhome in the 1990s. He received a patent in 2000, and over the next five years, a number of competing machines were brought to the market. By the mid-2000s there were several models of Direct to Garment printers, but there was a problem, the garments looked great when printed on white material, but not so much on black. This was because nobody had invented white ink. In 2005 this final breakthrough was secured, ushering in the technology we have today. DTG printing has proven itself a worthy alternative to the traditional process of screen printing, which has a history dating back a thousand years.
3. What do you need for Direct to Garment printing?
DTG printing is optimized to be quick, efficient and consistent. With a few steps, a DTG printer owner can print up to 60 t-shirts a day! To achieve high-quality results when using Direct to Garment printing, one needs high-quality fabric-friendly ink, the best fabric material and the right equipment for pre-treatment and heating the fabric. And of course a good Direct to Garment printer. However, in today's online driven world, you don't need any of the above to start a business with DTG printing. The print-on-demand business model makes it much easier to get DTG printing services without having to own a single printer.
4. What is Screen Printing?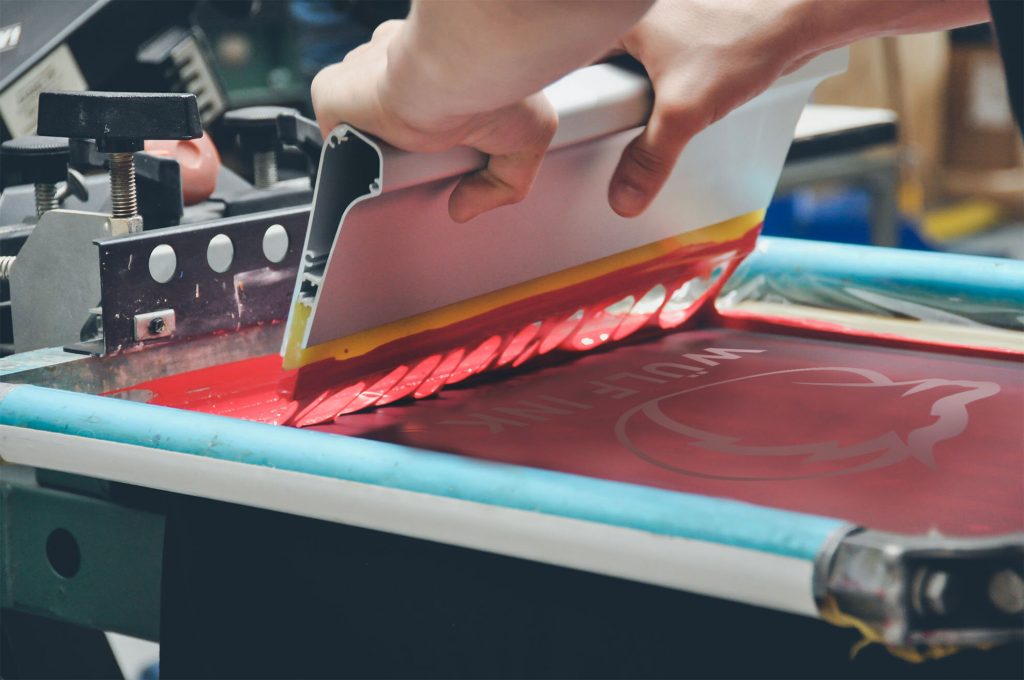 Screen printing is a printing technique where a mesh stencil is used to transfer ink onto a substrate. The oldest printing method dating back a thousand years, it was first intended to stencil silk. That is why screen printing is also known as silk screening. A blade or squeegee is moved across the screen to fill the open mesh apertures with ink. One color is printed at a time, so several screens can be used to produce a multicolored image or design.
Screen Printing uses thick inks, causing them to lay on top of the material rather than soaking into the fabric. Before  DTG printing, screen Printing was the only method of t-shirt printing used. It is still used today along with DTG printing because in some cases, it's better to use Screen Printing over DTG.
5. Screen Printing vs Direct to Garment printing
There are numerous comparisons between direct to garment printing and screen printing methods, but both techniques differ in their capabilities. For starters, with DTG printing, the colors are printed using CMYK-style dots of color, rather than solid blocks of ink, which don't provide quite the same intensity of color that you get with screen printing. You also can't recreate the texturized effects achieved with screen printing, with a digital printer.
However, DTG printing does not require the use of a stencil for design, so the result can provide precise details much like photography. With DTG there's very little setup required, which means that digital printing is a more cost-effective option for printing small batches of clothing or single items. And because it uses a computerized image rather than a stencil, it's great for producing photographic or highly detailed designs.
6. What is Dye Sublimation?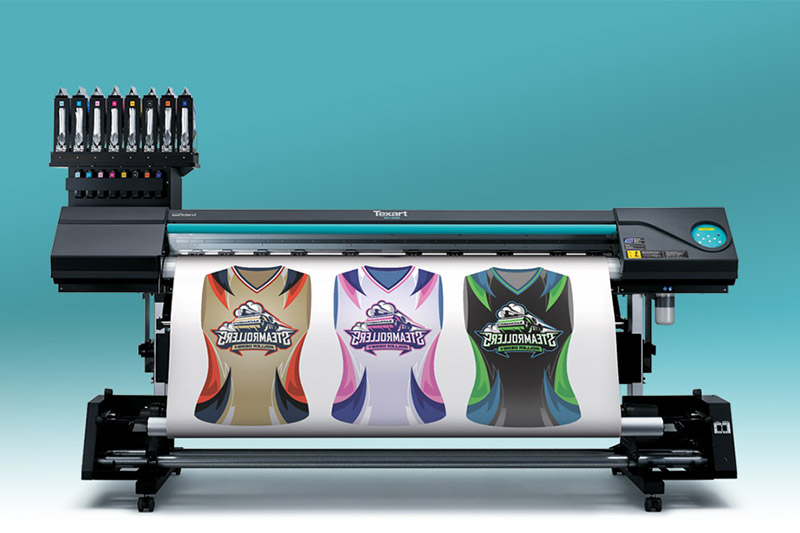 Dye Sublimation is a process done by a printer that uses heat to transfer ink onto different materials. It was named 'sublimation' because it was thought that the ink went from gas to a solid-state without conversion to liquid. This was later revealed to be untrue and has prompted some to rename it to Dye Diffusion. However, this new name never caught on.
7. Dye Sublimation vs Direct to Garment printing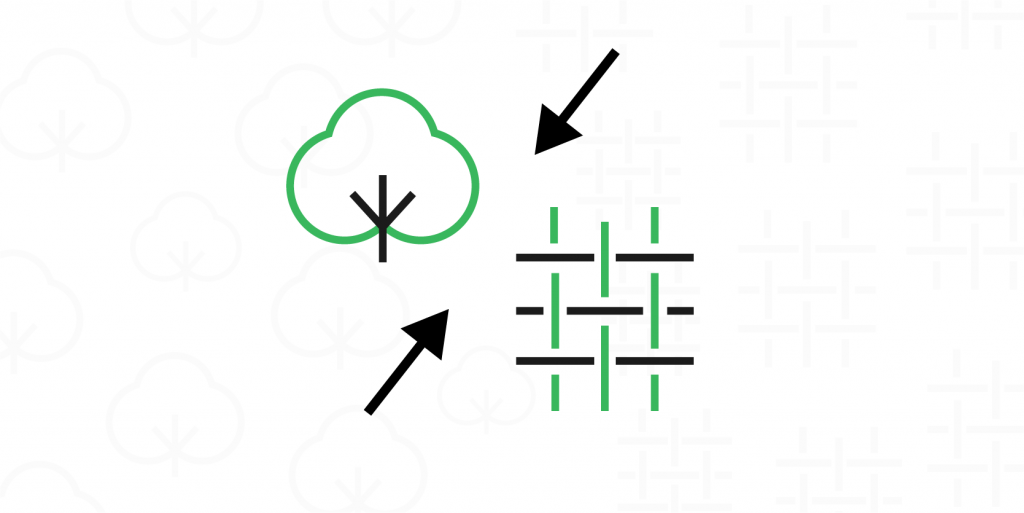 Dye sublimation is simple and quite similar to DTG printing. However, the biggest identifier is the materials they work on. While DTG is best on cotton, dye-sublimation is great on white 100% Polyester fabric, or a blend with cotton, the kind you find mostly in sportswear. It also applies well to white polymer-coated hard materials such as plastic, ceramic, or special metal sheets. Dye-Sublimation uses CMYK dye sublimation inks that can print on white and light-colored textiles.
DTG printing process and tips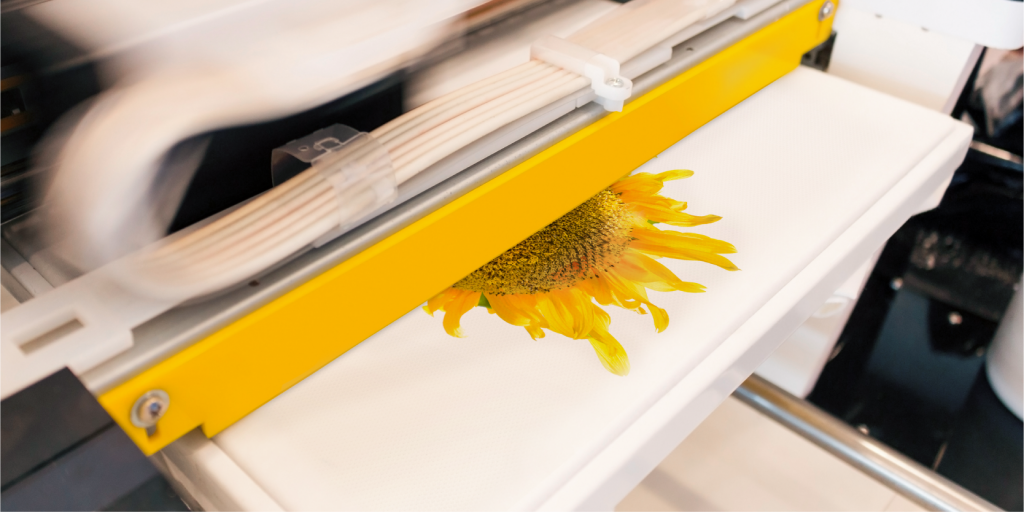 8. How is Direct to Garment printing done?
The DTG printing process involves three major steps:
The garment is sprayed with a pre-treatment liquid that helps the ink bond with the fabric fibers for increased vibrancy. The garment is then left to dry.
Graphics are prepared digitally and the treated garment is carefully loaded into the printer. Garment must be completely flat to not ruin the design.
An 'under base' of white ink is laid down first on darker garments to help with visibility and color vibrancy.
Hit the print button and the automated printing process begins.
After printing, the garment is 'cured' using a heat press to help the ink set – silicon paper is placed between the garment and the press and left to dry.
The garment is now ready for a wash and wear.
9. What is the best fabric for DTG printing?
The best fabric to use for DTG is 100% cotton. This is because the cotton material absorbs ink very well, allowing for the creation of vivid colors embedded in the fabric and set to last for longer. A 100% cotton T-shirt with a tight weave is always the optimal choice for direct to garment printing. Garments made from other materials like polyester can repel the liquids, such as the water used in DTG printer ink. In the cases where the fabric is not 100% cotton, any other garments used for DTG must have at least 50% cotton so it can absorb the ink pigment for the best results. Check out this article for fabric comparisons.
10. What are some Artwork tips for DTG printing?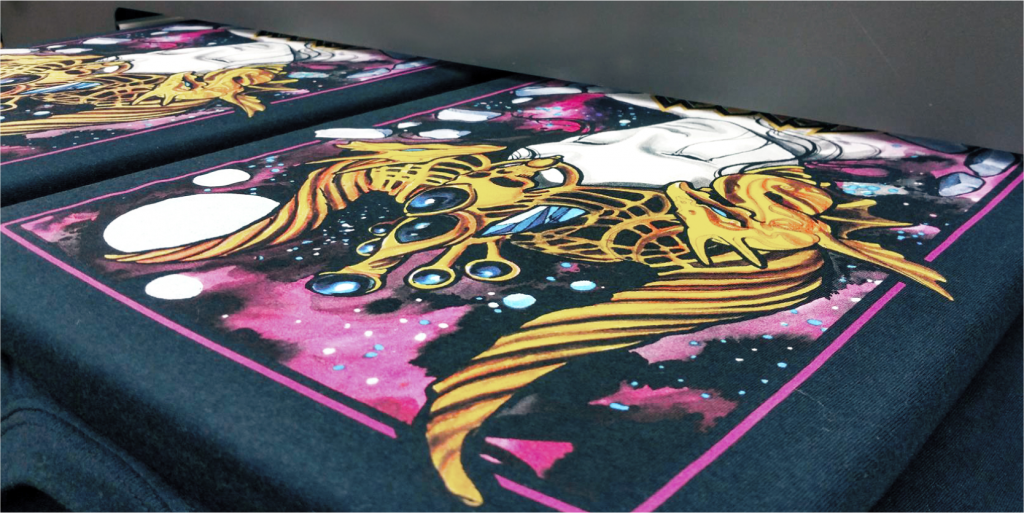 Direct to Garment printing allows a great level of precision in image reproduction, which means you can go as complex as you like in terms of colors and details in your designs. The biggest tip is to make sure your images and/or designs are saved in the highest resolution possible for the best quality. Another tip is to keep within CMYK color mode because that's the color mode for most DTG printers. This will help reduce color discrepancies in your final products. It is worth pointing out, that the colors will fade over time, but not to worry, the 'vintage look' trend in t-shirts is always a great fall back.
11. Where can I get free designs for DTG printing?
For starters, we have lots of free designs for you to use. In a bid to make it smooth and easy for you,  Printify has created thousands of copyright-free designs ranging from, Mother's Day to Halloween and including the most popular sale seasons such as Christmas and St. Valentine's day. We also have a very detailed blog article to help you find the best sites that offer copyright-free images and/or allow you to create your own.
12. What are the main pros for DTG printing
The advantages of DTG printing are:
Printed products have a natural feel – Because DTG printing embeds the ink into the fabric, the products do not have a raised graphic on them. Instead, they are breathable and soft to the touch, making it difficult to distinguish between the ink and the fabric itself.
Great image quality – DTG printing is able to recreate intricate details in the full spectrum of colors which enables very detailed and vibrant high-quality results.
Environmentally friendly – Today's technology has paved the way for the use of eco-conscious inks and safe materials to be used for DTG printing.
Print on Demand – DTG printing has opened up a whole industry of "on-demand" production, reducing the setup costs for one garment and allowing for an easy production process.
13. What are the cons of using DTG printing?
The disadvantages of DTG printing are:
Limited application surfaces – Unlike Dye sublimation which allows All Over Prints, DTG print surfaces can be limiting. Additional print areas require a lot more manual setup.
DTG printers are expensive – It may not be a personal concern for print on demand users but for those willing to pay for a DTG printer, the costs are astronomical.
Doesn't work on all types of fabrics – garments used for DTG printing must have at least 50% cotton to aid in the absorption of ink pigment for better quality.
5 Best DTG printing products
14. Direct to Garment printing on t-shirts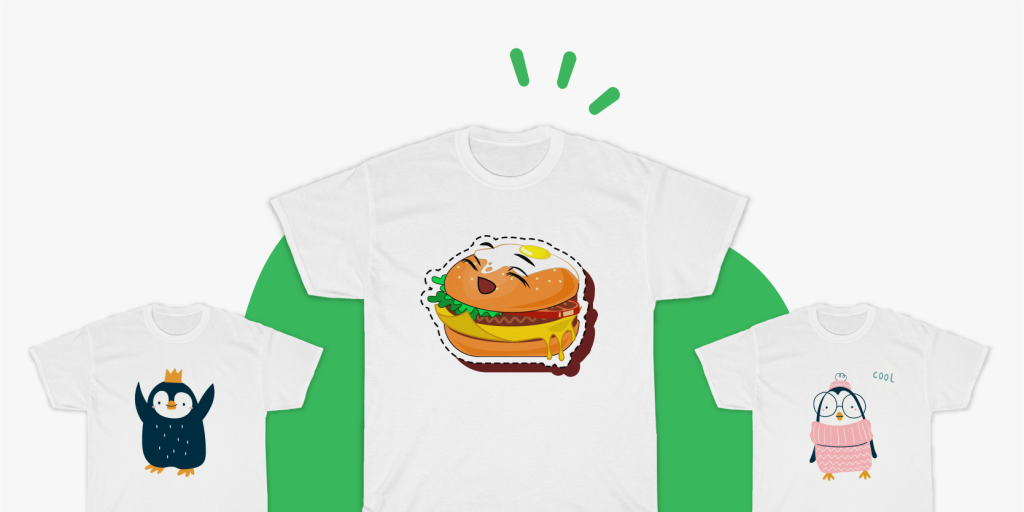 T-shirts are perhaps the most common item chosen for DTG printing. Recent years have seen the trend of opening a t-shirt business becomes easy and quickly popularised. Printify offers great custom t-shirts ready for DTG printing in our catalog. Our bestsellers have been a go-to pick for thousands of online entrepreneurs every year. They are loved for their unisex Classic fit, are made of 100% ring-spun cotton – fiber content may vary for different colors – and run true to size. Some even feature a tear-away label. These t-shirts are sourced from reputable custom t-shirt suppliers with t-shirt icons such as the Bella Canvas 3001, Gildan 5000 and Next level 3600.
15. Direct to Garment printing on hoodies and sweatshirts
The second most popular item for DTG printing is the classic hoodie, with sweatshirts cutting in close. Hoodies and sweatshirts with a heavy cotton blend are preferred for the cooler months of the year. The Printify catalog has over 20 custom hoodies and sweatshirts in men's women's and unisex options, ready to customize. They are crafted for comfort and high-quality DTG printing results. They are made of more than 50% cotton and range from a lightweight feel to medium fabric with a heavier spin. They run true to size and some feature a fleece lining for the perfect relaxing soft feel.
16. Direct to Garment printing on socks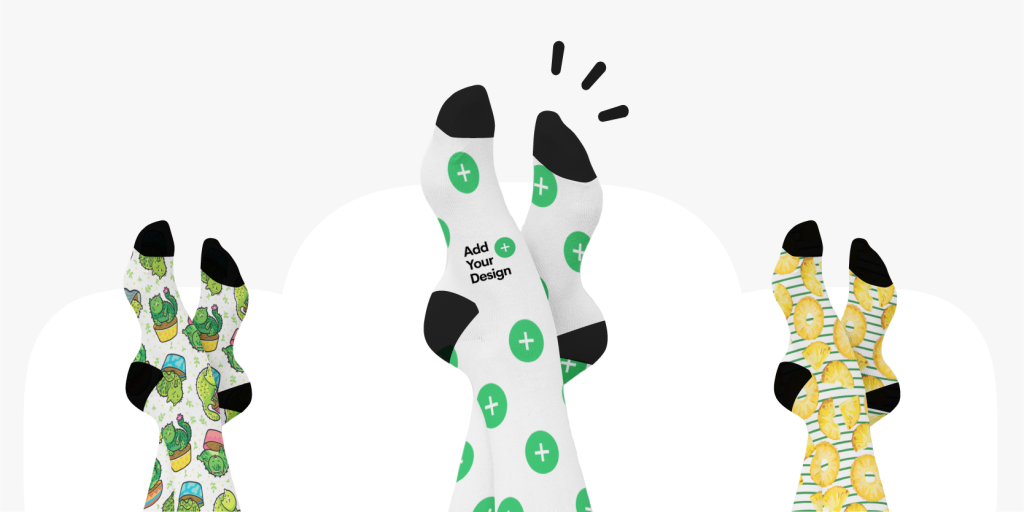 The last few years have seen an increase in demand for "Happy Socks" – quirky, bold and brightly colored socks to replace their darker drab versions. Seen as the perfect item to inject some personality without overpowering your outfit, creative custom socks have joined the DTG printing world. We offer DTG socks made using a proprietary blend of yarns specially sourced by the brand, Tribe Socks. They are 200 needle knit crew and ankle socks that feature a terry cloth cushioned bottom for extra support and comfort. They are truly one size fits most, and provide a great amount of stretch and durable print quality.
17. Direct to Garment printing on canvas
The word is artists are generally starving but it's 2020, a whole new decade to let your art feed you. Gone are the days when you couldn't sell your oil on canvas painting from the comfort of your home. Better yet, no big wig gallery is needed to start selling your art. DTG printing on canvas is the answer to many artists and art enthusiasts. We have a high-quality cotton canvas, wall wraps and stretched canvas in the catalog.
These canvases are made of 100% cotton for high-quality print that will always look as bright and flat as the day they were made. Every frame is built with a solid face to support the canvas and prevent deforming. They also come with pre-installed mounting hooks and set.
18. Direct to Garment printing on blankets and pillowcases
DTG printing is not confined to only apparel. Home accessories and other products such as blankets and pillowcases can be just as easy to customize. With Printify, you get access to blank blankets and pillows for DTG printing. They are made of a cotton blend of lightweight woven microfiber and come in multiple sizes. The bed pillows have an envelope closure while throw cushions have a concealed zipper. and can be printed on both sides. The blankets are made of high-quality cotton blends, some often feature a fleece lining for a soft comfy feel.
Direct to Garment Printing and Print on Demand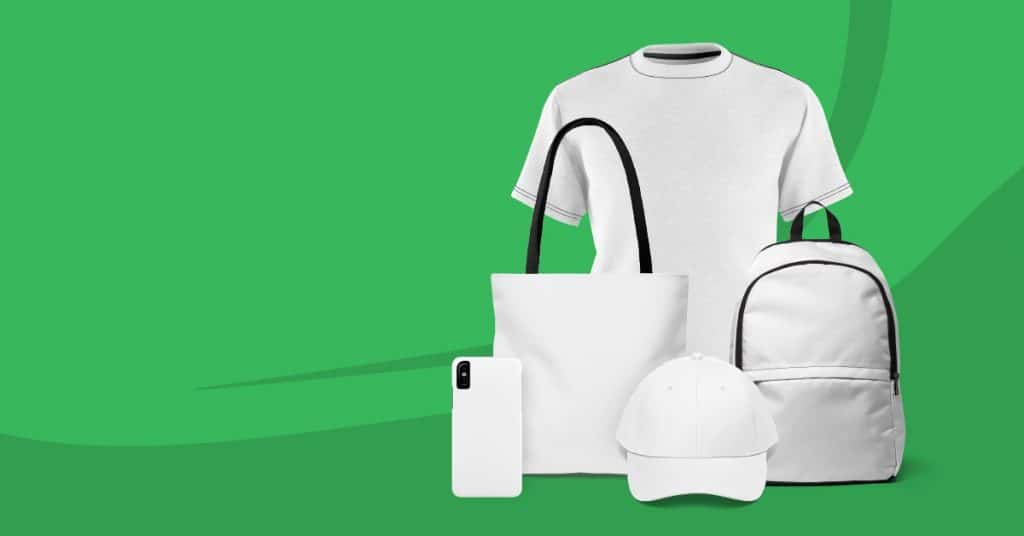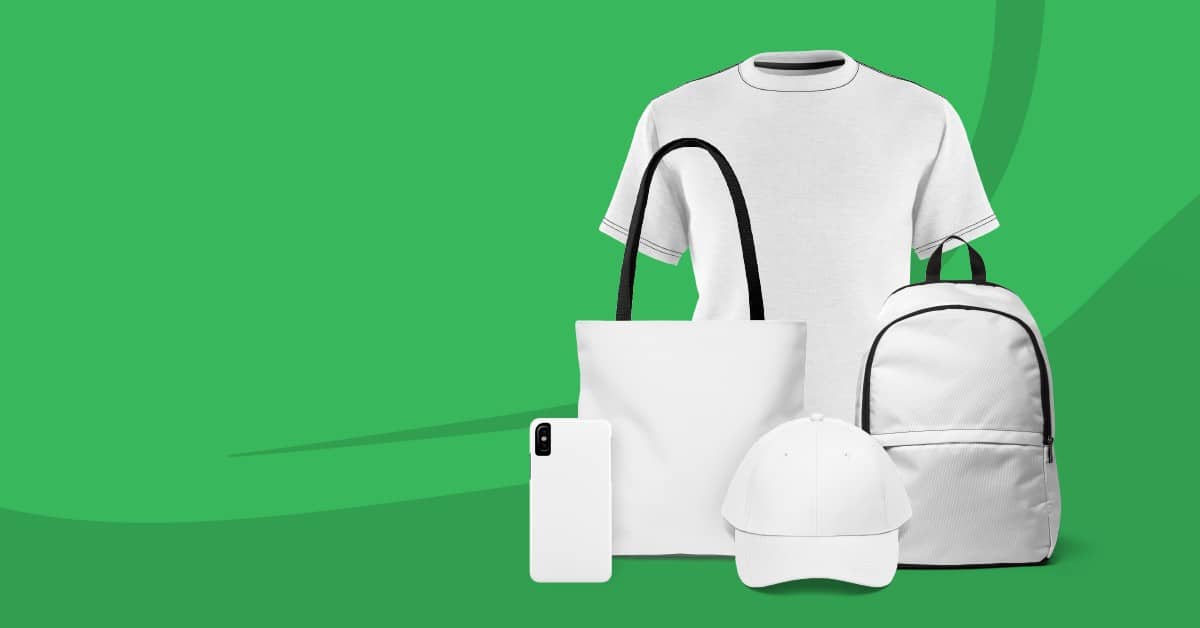 19. Is DTG printing cost-effective?
Perhaps the question on everyone's mind at the moment is: Should I invest in a Direct to Garment printer? This question presents a good number of concerns. For starters, DTG printers are uber-expensive with prices ranging from $11,000 to $32000. Shelling out that kind of money for a small t-shirt business doesn't sound in the least bit appealing. Couple that with the other equipment needed to facilitate the DTG printing process and you might as well set up a factory. Not all of us can, or even want that sort of thing. That is where the joy of Print on Demand begins.
20. What is print on demand?
Print-on-demand is an online business process that facilitates the process of production and fulfillment for online entrepreneurs. Products such as t-shirts, pillowcases, mugs, and shoes are printed and shipped to customers around the world, only after actual sales. This allows the printing of singular or small quantities of custom merchandise and no inventory or warehousing. Direct to Garment printing has been one of the largest pushers of print on demand. Today, over 3million sellers are using print on demand across the globe.
21. Advantages of using Print on demand for DTG printing
Print on demand has a large number of benefits for its users. Perhaps the biggest three are:
Cost-effective – Since Print on Demand is based on actual sales, you won't need to put up investment capital to start or keep stock of products.
No minimum quantity – Print on demand is perfect for making low quantities of personal orders on products. You can order just one shirt, or you can order twenty, there is no minimum. Plus the prices are all reasonable.
90+ print provider locations – Simple setup to connect to 90+ print provider locations.
22. How much does a product for DTG printing cost?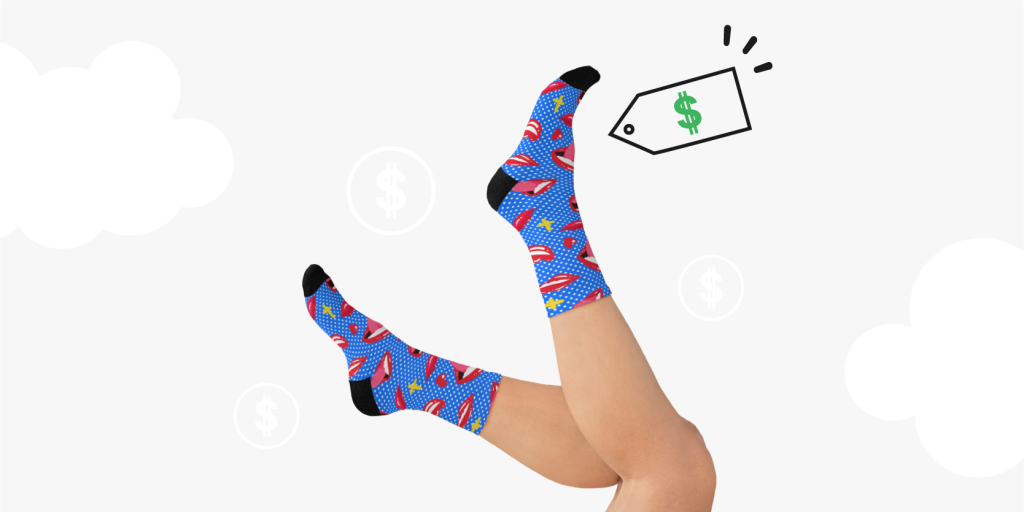 Prices on DTG products vary greatly per item and product category. Nevertheless, Printify is proud to have the most competitive prices across any print-on-demand platforms. We believe in providing cost-effective ways to help you spend the minimum amount possible on DTG products. Prices on our catalog range from as low as $5 for a blank custom product, excluding production(printing) and fulfillment, and each depending on the print provider. That is why we implore you to check the unit price of each product you wish to sell. The type of product, production cost, and the shipping prices will determine the overall cost of your products. In regards to platform prices, check out this price comparison about using the platform.
23. How does Printify make DTG printing easier?
Printify connects online entrepreneurs to both print on demand printing facilities and online marketplaces. We are a technology platform that simplifies and automates print-on-demand services. Our mission is to make print on demand processes, custom designing and DTG printing easy and accessible for every aspiring online entrepreneur.
We currently connect over 300,000 online sellers to our network of 15 print providers who have over 90 printing facilities around the world. We also currently integrated into a large network of online shop platforms such as Etsy, Shopify, eBay, Wix, and WooCommerce. These platforms not only offer the sellers a place to host their online shops, but they also provide them with marketing tools to help them build their brands. Printify also offers design guides and tools such as our free mockup generator.
24. What are the best print providers near me? (USA/Europe)


A print provider is a company with one or more printing facilities that house large scale printers, including DTG printers. They operate as a business factory, taking orders for print and fulfilling them as requested. For print on demand, these facilities accept orders and fulfill them only after the products have been sold to their end customers. The thought of having to find your own print provider for DTG printing can be daunting.
That is why Printify has collaborated with a good number of print providers located in the US and Europe to make it easy to access their services. Head over to our print provider page and explore the many products they offer. Depending on your location, you can easily figure out what the best print provider is for you.
25. How can I get better profits from DTG printing?

Printify offers a monthly subscription plan, Printify Premium for only $29 a month. This subscription gives you access to up to 20% off of all products including Direct to Garment printing products. After subscribing to Printify Premium, you receive a one-time bonus of $29.00 in Printify credit to spend on your next sample orders.
Just like that, you now know a lot more about Direct to Garment printing than you did when you woke up today.
That said, why not take this to the next level – check out our DTG  printing products, pick your faves and start your brand new print on demand business. We've got you, DTG products, print providers and print-on-demand at no minimum orders and for free. Ready to start designing? Check out our design guide.